It's home to the British Museum, University College London, and one of 20th Century London's most important literary movements. Yet Bloomsbury has traditionally occupied a relatively small (albeit perfectly-formed) place within London's commercial property market.
That's changing, however, as one of our long-standing clients, The Bedford Estates, goes about transforming the area for a fresh crop of potential occupiers. With new steward Simon Elmer taking the helm this month, we looked back over our "relationship history" on The Duke of Bedford's 850,000 sq ft office portfolio as part of our focus on the client series.
You've heard us wax lyrical about the transformative impact of the Tottenham Court Road Crossrail station on the area to the east end of Oxford Street, making for pioneering schemes at 10 Bloomsbury Way and 100 New Oxford Street, not to mention forthcoming developments at Rathbone Place and Soho. And of course it's also been something of a boon to our work with The Bedford Estates and Columbia Threadneedle at the Heal's Building on Tottenham Court Road itself.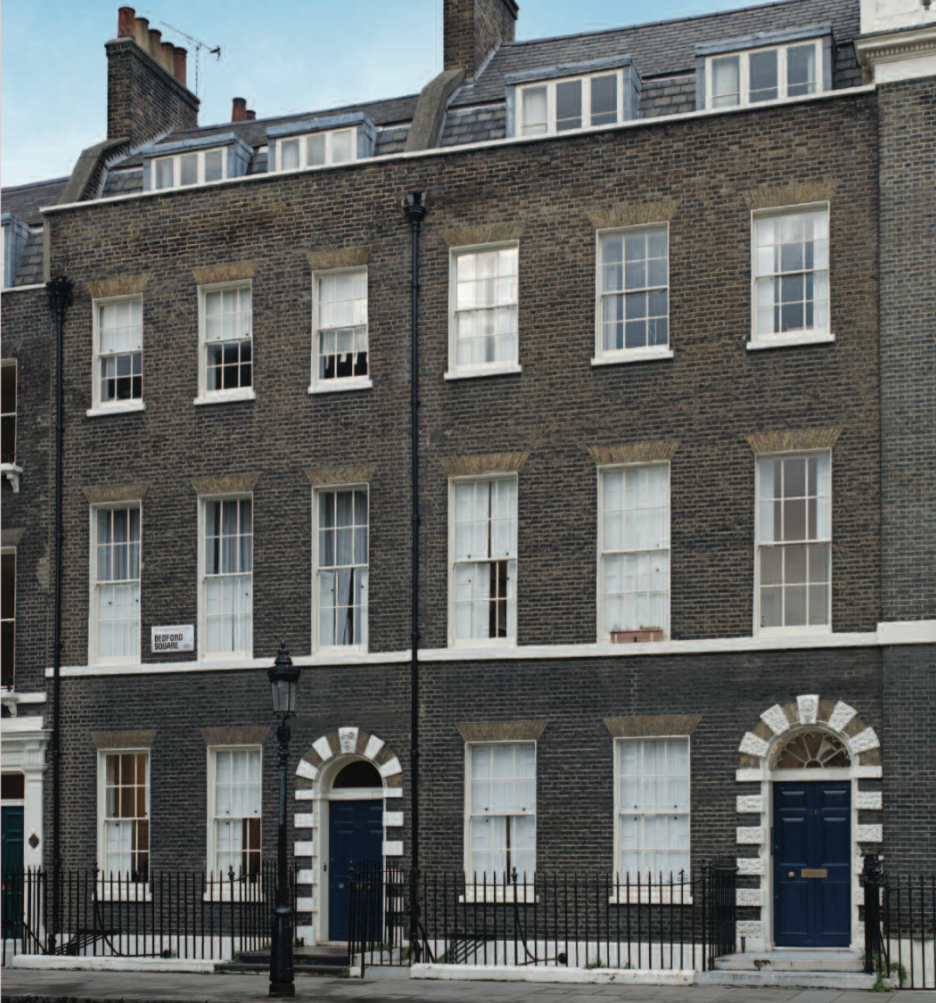 But our track record in Bloomsbury runs deeper, and we're proud in fact to have worked – over the years – across the entirety of the estate, with all its distinctive Georgian townhouses gradually being upgraded for 21st Century use, under the stewardship of outgoing head, Mark De Rivaz.
On Bloomsbury Square, we were responsible in 2011 for letting out a series of office refurbishments amounting to more than 6,000 sq ft. Then, on Bedford Square (the only intact Georgian garden square in London), we spent much of 2012-14 letting out beautiful new offices that had been refurbished behind retained facades (26-27 Bedford Square, pictured above).
We've done similar work for The Bedford Estates on Gower Street, Bayley Street and at Bloomsbury Place, letting individual floors and self-contained buildings and bringing our singular, granular approach to a granular portfolio. These deals have amounted to more than 30,000 sq ft.
At One Bedford Avenue, which is currently being redeveloped by The Bedford Estates in a joint venture with Exemplar and Ashby Capital, we were responsible for short-term lets across the building ahead of the start-on-site.
But we've also been instrumental in letting out some landmark, new-build projects on behalf of the client too.
Aside from the Heal's Building, we were instructed on 8 Ridgmount Street (pictured, above), which provided a brand new development of 5,000 sq ft of offices across three floors built on the  former, and listed, Store Street Petrol Station
These open-plan offices incorporated sympathetically retained features including a double-height hall to the rear and a partly original period façade.
The development included reconstruction of the former Bloomsbury Petrol Station and forecourt dating from 1926 which has been converted to a new "Byron" restaurant.
Alongside Heal's and One Bedford Avenue, the scheme provided a clear indication of the direction of travel at The Bedford Estates. After bidding farewell to Mark De Rivaz (who has managed the portfolio for 24 years), we look forward to welcoming in a new chapter, with the incoming Simon Elmer – who joins as steward after seven years as a director on Grosvenor's London estate.
Check out other articles from our "client focus" series:
Focus on the client: Almacantar
Focus on the client: Helical Bar
Focus on the client: Great Portland Estates